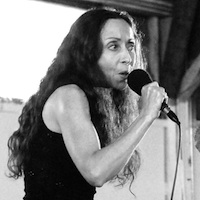 In 1984, poet Jean Smith teamed up with guitarist David Lester to form the feminist indie rock duo, Mecca Normal. A few years later, their blueprint of punk spunk and explicit politics (sexual and otherwise) played a big role in the cultivation of the '90s Riot Grrrl movement.
Fast forward three decades: Smith and Lester are post-punk royalty and Riot Grrrl has long been eviscerated and repackaged as the Spice Girls, who themselves are old enough to exist only nostalgically.
Meanwhile, Mecca Normal is recording a new album in Miami Beach, and International Noise Conference impresario, Rat Bastard, is at the helm. His co-pilot is acclaimed producer, Shimmy Disc founder, and occasional member of Half Japanese, Kramer.
One thing led to another, and now the trio of Smith, Bastard, and Kramer will be performing as an unlikely supergroup at the tenth anniversary of INC. In honor of this momentous freak-out, the hyper-literate Smith sent us some questions she asked herself about the upcoming jam.
You don't fit the stereotype of International Noise Conference participants. How did you become involved?
I've never been one for rhythm and counting. I find it weird that some sounds are called notes and therefore "OK" and other sounds are "bad."
What about Noise appeals to you as a performer?
I like responding during, not after. Not even slightly after. Playing this way is like having a great conversation where both people can talk at the same time without the gumminess of words – or notes and time signatures.
Mutually agreed on patterns – song structures – can be very satisfying. Like a slice of your favorite pizza. Noise is more like climbing into a huge stainless steel mixing bowl and slithering around in cake batter while trying to avoid the whirling rotors of the mixer. It is hardly a matter of trying to appear to be cool or capable. Noise is like the sex that I always hoped I'd have, but have not been able to locate because mainstream men in their fifties seem to be more about manipulating, imitating and disappearing.
How should citizens of Miami approach the International Noise Conference?
In my approach, a litany of simultaneous ignitions expel orchestrated antics — resulting in acute listening amongst performers. This puts the audience at the helm of their own experience. Rather than being presented with something built with repetition, it's more like being exposed to pure, unregulated energy. Listeners may fare better if they abandon anticipating predictable structures.
None of this is to say that the Jean Smith / Rat Bastard / KRAMER trio is sexual in nature or that we even like cake (or power).
http://blogs.miaminewtimes.com/crossfade/2013/02/mecca_normal_jean_smith_interview_international_noise_conference_2013.php